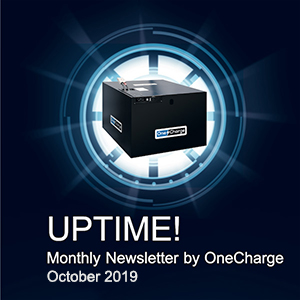 This is the October 2019 issue of UPTIME! OneCharge monthly news digest.
Nobel Prize in chemistry 2019, the race to introduce the best Li-ion batteries recycling solution and much more. 
You can always find more at our
News and Media
 page or learn from our experts and register for 
FREE ONLINE SEMINARS.
In an opinion by Bloomberg News – "This week's winners of the Nobel Prize in Chemistry paved the way for a wireless society.
Identifying and implementing the right energy solutions can save money, enable a smarter warehouse and lead to changes that can make your organization more efficient.
It's time to get serious about recycling lithium-ion batteries
The explosive growth of Li-ion batteries production fueled first by electronics and now by the electrical vehicles and industrial trucks and forklifts requires new recycling solutions. Read more about the current achievements.
Batteries for Forklift Market
A fresh market research study titled Global Batteries for Forklift Market explores several significant facts related to Batteries for Forklift market covering industry environment, segmentation analysis, and competitive landscape. Realistic concepts of the market are mentioned in a simple and plain manner in this report. A comprehensive and elaborate primary analysis report highlights numerous facts such as development factors, business enhancement strategies, statistical growth, financial gain or loss to help readers and clients to understand the market on a global scale.
Automation experts—and those who want to explore how to grow their business with the latest trends and innovations—will descend on San Jose November 12-13 for the Collaborative Robots, Advanced Vision & AI (CRAV.ai) Conference. Sponsored by the Association for Advancing Automation (A3), this conference is ideal for engineers and manufacturers seeking effective ways to reduce cost, improve quality and advance productivity, while increasing flexibility. CRAV.ai also holds appeal for experienced users seeking new applications or prospective users trying to determine if robotics, vision and artificial intelligence make sense for their companies. Registration for the conference is open at https://crav.ai.
March 9-12, 2020; Atlanta's Georgia World Congress Center.
From illuminating educational seminars to exhibits of next-generation technology and equipment in action, MODEX lets you see what's coming — and take advantage of it to power your supply chain for years to come.
INDUSTRIAL TRUCK MANUFACTURERS' NEWS
Our 2019 third quarter consolidated revenues decreased modestly to $766 million from $783.9 million in last year's third quarter. Despite this decrease in revenues, our consolidated operating profit increased significantly to $19.5 million from $12.2 million last year. The lift truck business is 44% increase in operating profit was the driver of the substantial improvement, partly offset by Bolzoni and Nuvera.
OneCharge opened a new manufacturing facility close to its HQ in Irvine, CA. Along with the expanding manufacturing capacity OneCharge is adding more sophisticated equipment in order to get greater control on lead time and ensure the highest standards of product quality. Watch OneCharge COO

Vladimir Karimov, PhD

short but emotional welcome speech at the ribbon cutting ceremony. Join us in congratulations to Vladimir and the Team!


Vladimir Karimov, PhD has been promoted to COO of OneCharge. Prior to that he has served at OneCharge as Engineering Specialist for 3 years and lead the manufacturing team in day-to-day production tasks as well as innovation and new models development.
Vladimir has earned an engineering degree with honors from Bauman Moscow State Technical University – the leading Russian Engineering School, and the Ph.D. degree from Kansas State University, which added to his interest in Environmental Engineering and Sustainability.
OneCharge Academy continues FREE ONLINE SEMINARS on Li-ion batteries usage tips and benefits for material handling industry. The 101 and 102 Advanced courses are 45-60 minutes sessions led by Mark D'Amato, a life-long professional in lift trucks and motive power.