Briggs & Stratton, a leading U.S. small engine manufacturer, made the switch to OneCharge Li-ion Batteries to stay at the top of the game and achieve the highest performance for its forklift fleet at the company's U.S. distribution centers.
"What's nice about lithium batteries is that there is no memory effect! You can randomly charge it at 90% or at 10% (SOC)" – Bill Harlow, Director of Global Distribution and Warehousing, Briggs & Stratton.
Executive Summary
Briggs & Stratton merged its smaller warehouses across the U.S. into two large distribution centers and switched forklift fleets at both locations to Li-ion batteries from previously used lead-acid batteries. The detailed cost analysis demonstrated significant savings of lithium batteries compared to both LPG (propane) and lead-acid batteries. After over a year of impeccable performance from OneCharge Li-ion Batteries, the company is committed to switching all of its remaining lead-acid batteries to Li-ion.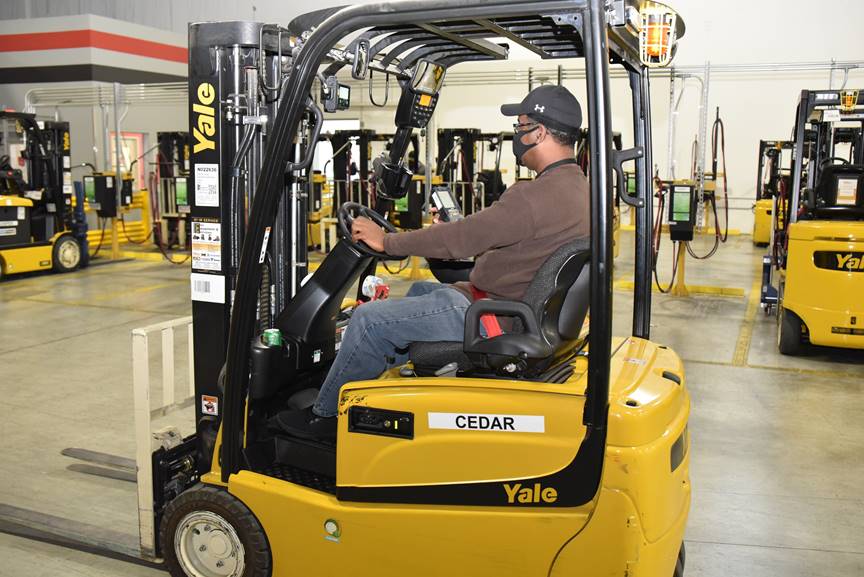 Challenges
With over 110 years of experience, Briggs & Stratton is trusted by millions of people around the globe and backed by the largest service network in the industry. Headquartered in Milwaukee, Wisconsin, Briggs & Stratton Corporation is the world's leading producer of gasoline engines for outdoor power lawn and garden equipment and pressure washers through its Briggs & Stratton®, Simplicity®, Snapper®,  Ferris®, Vanguard®, Allmand™, Billy Goat®, Murray®, Branco®, and Victa® brands. Briggs & Stratton products are designed, manufactured, marketed and serviced in over 100 countries on six continents.
In 2019, Briggs & Stratton was consolidating a number of its smaller existing warehouses throughout the U.S. into two large warehouses in Richfield, Wisconsin, and Auburn, Alabama, with a total area of 1.1 million square feet.
"By consolidating our current footprint into two large distribution centers, we're increasing efficiencies to more effectively serve our customers," Bill Harlow stated in the company PR release at the time.
Drive for Efficiency
The drive for efficiency has guided Harlow's decisions for 42 years at Briggs & Stratton.  His career started in August 1978, and in 2020, Harlow is responsible for over 1.5 million square feet of warehouses and distribution centers in the U.S. and Europe (Netherlands).
About 10 years ago, the company started to experiment with an alternative charging pattern of these "wet-cell" batteries to increase uptime. Instead of a standard practice of 8 hours of operations and 8 hours of charging followed by 8 hours of cooling, Harlow's team was charging lead-acid batteries frequently to keep them in the 40-70 percent SOC (state of charge) corridor. Harlow thought this was not enough.
There was still maintenance to take care of. With an average of 20 minutes per day spent on watering and changing the lead-acid batteries during shifts, the inefficiencies were piling up quickly for the 150 people operating over 50 trucks. The uptime increase has become a real issue for the company with the two-shift operations.
So, Harlow decided to test the long-standing practice of using lead-acid batteries as a power source for the company's fleet of electric forklifts.
Harlow had been closely following the developments in li-ion technology. One of the company's commercial brands, Vanguard, has a line of lithium-based power solutions. Harlow asked his longtime trade partner Dwayne Lawhorn from YES Equipment to help estimate the available options for the two new distribution centers.
How OneCharge Lithium Batteries Helped
The initial comparison included all available alternatives of power sources: fuel cells praised for their safety, li-ion batteries for longevity, "wet cell" batteries and LPG (propane) for lower initial costs. Both battery types and LPG went into the total cost of ownership calculations.
"The cost analysis made the decision straightforward," said Lawhorn. The estimate was based on the 15 years of operations of 54 trucks, alternatively powered by LPG, lead-acid and OneCharge lithium batteries, and factored in the lease, daily maintenance and fuel/electricity costs. The li-ion option was by far the most attractive: it demonstrated a savings of $2,800 per truck compared to lead-acid and $8,100 compared to LPG. Accumulated over the full period for all 54 units, the savings add up to $2.2 million vs. lead-acid and $6.6 million vs. LPG. And this analysis did not even take into account the air ventilation makeup, battery room expenses, potential hazards with acid spills and potential safety costs for LPG tank changeouts!
Once the deal was sealed, there was no problem fitting all of the new Class I and III lift trucks with the optimal li-ion batteries. Lawhorn and Jerry Mastroianni, sales manager from OneCharge, developed the battery specs to choose from the OneCharge product line of over 550 models.
Summary. Results, ROI, and Future Plans
One and half years after the start of the operations at new distribution centers powered by li-ion batteries, Briggs & Stratton has seen no issues with the equipment, and Harlow is happy with the performance boost. No leaking acid, none of the downtime associated with lead-acid batteries, and "what's nice about lithium batteries is that there is no memory effect! You can randomly charge it at 90 percent or at 10 percent," Harlow said.
This is true "opportunity" charging. If you can't opportunity-charge a lead-acid battery outside of the 40-70 percent SOC range, this actually is a strict pattern of a "memory effect".
Bill reports a 5 percent overall efficiency increase, and for a large company, this is a big deal. There are a few lead-acid-powered trucks left until the current lease term is over, and the plan is to transition to li-ion only at Briggs & Stratton.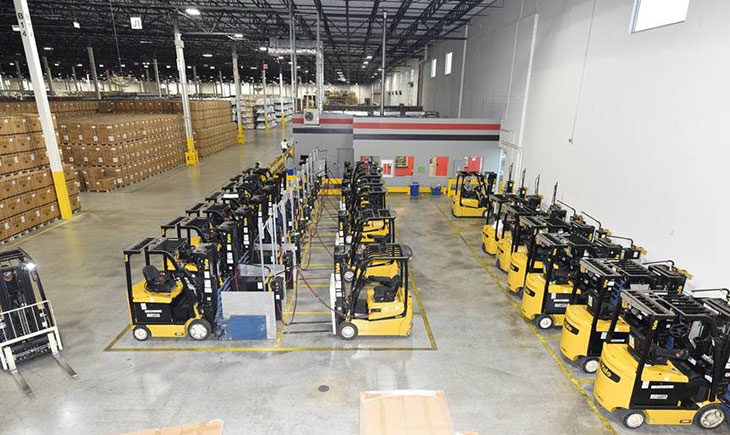 Efficient li-ion batteries are replacing the old lead-acid technology across industries and applications. Tried-and-tested lithium solutions are no longer the newcomers, and we will see accelerating adoption of li-ion batteries by all players in material handling over the next few years.