Custom series
Lithium Batteries for Specialty Equipment
You can now benefit from more effective utilization of warehouse space using Combilift or Aisle Master specialty equipment powered by OneCharge CUSTOM Series lithium batteries.
| | |
| --- | --- |
| Class of lift truck | I, II, III |
| Voltage | 24/36/48/80V |
| Capacity | 90 – 1080Ah |
| Charging time | 2 hours |
Full integration with ALL Aisle Master &
Combilift electric lifts
50 different models to fit Aisle Master and Combilift electric lifts
Battery-to-truck communication using CAN protocol
Lifts that require dual cases usually get all of the required power (and more) from just one case, with ballast in the other
OneCharge batteries are compatible with many different chargers
Lower total cost of ownership
Save 20–40% in 2–4 years (compared to LP, diesel, or lead-acid)
Two to three times the cycle life of a lead-acid battery
Save the labor or service contract dollars to change and water batteries
Return battery room space to profitable use
Reduce electricity use by as much as 30% due to better energy conversion
Reduce or eliminate costs to cool charging areas and warehouse
Improved safety and sustainability
No risk of changing heavy batteries during a shift
No acid fumes or spills
Reduced electricity use, less waste, 99% recyclable
Performance
One battery will last through three shifts while opportunity charging
Little or no voltage drop with lithium batteries
Heat that can damage lift truck components is reduced or eliminated
Lift truck components are subjected to less wear
Fast lifting and travel speeds at all levels of discharge
Standard equipment on
every OneCharge battery
Heavy-duty steel outer case
Battery management system (BMS)
Battery discharge indicator (BDI)
Speaker
On/off switch
DB9 connector for laptop connection
Output connector to lift (Anderson SB)
Input charging port (Euro 320)
Wireless capability
Options available
Extra weight
Wired external BDI
Hardware and software for CAN protocol communication with
Combilift
Direct cable package – charging cables and connector
custom length for any make/model
External equipment control package (external power option)
Cooler package – insulation; +32° to +68°F
Freezer package – insulation, heater, and top seal kit; -22° to +68°F
Top seal kit for cover, cables, BMS (dust and overspray only, no pressure washers)
OneCharge management system data access
Models:
Combilift
Aisle-Master
C6000ET, C8000ET, C10000ET
AM33E, HE, NE, SE, SHE
C12000ET, C6000GTE, C11000GTE,
AM44E, HE, SE, SHE, WE, WHE
C6000STE, C8000STE, C17000ESL,
CBE5000, CBE6000, CBE8000,
CS1850, CS2200, CS2750, CS3200,
CS3850, CS4400, WR, WR4
AM55E, HE, SE, SHE, WE, WHE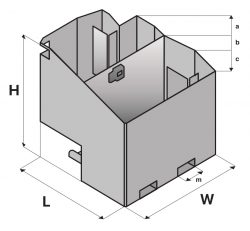 You supply the technical
drawings, we'll build you a
OneCharge battery!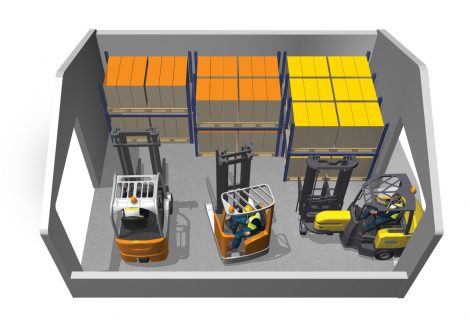 More effective warehouse space utilization using specialty equipment from Combilift or Aisle Master.