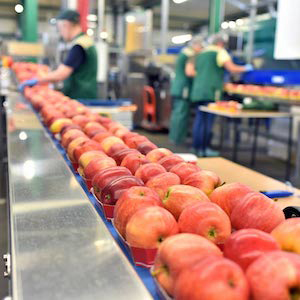 Logistics Drives Profitability in Food and Beverage Industry. In food and beverage manufacturing, demand and growth are driven by food consumption and population growth, while profitability is driven by operations efficiency.
Changing consumer behavior, dramatically initiated by the pandemic in 2020, is setting new requirements for the logistics and supply chain, at a speed that many industry providers are, arguably, not prepared for.
Food and beverage is a very diverse, fragmented industry, but the "efficiency drives profitability" motto is common to all of its segments.
On-demand availability, timely home delivery, locally sourced fresh produce, supply-chain transparency—these trends require technological innovations in moving products through the supply chain to increase efficiency and maintain the highest standards for hygiene and food safety. This is how food logistics is becoming the key to success in the industry.
Why Li-ion Batteries Are a Viable Solution for Improving Your Operations Efficiency
With efficiency a top priority throughout the industry, the use of lithium-ion batteries in forklifts can help provide an essential boost to the bottom line.
Adoption of AGVs / AMRs (autonomous guided vehicles / autonomous mobile robots) and automation of the warehouses are one of the most prominent trends in the strive for higher efficiency. We have recently published an article on why AGVs and Li-ion Batteries are Match Made in Heaven. Single-battery operation, zero daily maintenance, and flexible opportunity charging (with wireless charging on the horizon) mean that forklifts can operate largely uninterrupted through multiple shifts. This trend also helps mitigate the acute risk of labor shortage.
Better utilization of material handling equipment is achieved through higher uptime and data transparency. Daily analysis of data from every Wi-Fi-enabled battery management system (BMS) keeps track of individual truck performance, energy use, and battery health. Predictive and remote upgrades and maintenance further decrease downtime.
The lower total cost of ownership of lithium batteries for electric forklifts compared to both internal combustion engines and lead-acid batteries has been proven over time in multiple applications of forklifts in food and beverage production and distribution.
Top hygiene and safety standards when handling food and beverage products include both the cleanliness and air quality of the facility. These requirements essentially render obsolete lead-acid technology with its hazardous acid spills and fumes, whereas lithium batteries produce zero pollutants.
Outdoor farming and food processing plants impose the most stringent requirements on batteries, which are often used in diverse harsh conditions, including extreme temperatures.
OneCharge offers sealed lithium batteries to keep out dust and condensation. We also offer a waterproof solution for applications that process meat, poultry, and fish, where moisture would otherwise compromise the battery's condition.
Industrial lithium batteries for lift trucks and forklifts continue to serve as an enabling technology for the key megatrends in material handling.
Case Studies
Fruit and Wine Producer
An example of this efficiency in action can be found at fruit producer Allan Brothers Inc., the company that recently installed the world's biggest fruit packing line. Allan Brothers switched to lithium ion batteries for its forklifts in order to avoid constructing a new battery storage room that lead-acid batteries would have necessitated, saving close to half a million dollars.
Food and Beverage Producer
In beverage production, equipment is often needed to handle extra-heavy loads. Illustrating how lithium-ion batteries can meet this challenge, one leading U.S. beverage producer reports that switching to OneCharge MAX POWER Series allowed for the use of a single battery per truck across three shifts of daily operations.
This included 19 hours per day across 3 shifts, moving 3,500-pound pallets of bottled soda using 4-wheel, sit-down 80V lift trucks with single/double attachments. BMS data show there is still enough power left at the end of the day to deal with potential peaks or emergencies.
Dairy Producer
One of the nation's top dairy and ice cream producers provides an illustration of Li-ion technology use in temperature-controlled warehouses. The company, which owns 13 manufacturing plants throughout the U.S., runs multi-shift warehouse operations in temperatures ranging from -30 to 70°F.
One of the company's facilities has switched to Yale trucks powered by OneCharge FROST batteries, which effectively ended the cumbersome process of charging batteries midway through the second shift of operations due to lost power in cold temperatures.
Some lift trucks work predominantly inside the freezer (-20°F) and are powered by OneCharge FROST II batteries. Other trucks operate in a cooler environment (+30°F) and use OneCharge FROST I batteries. The rest of the fleet is powered by regular OneCharge batteries at an ambient temperature of +70°F.
The FROST I forklift batteries offer insulated cells, allowing forklifts to make trips in and out of a freezer. The FROST II batteries feature a thermostat-controlled heater located below and around the cells, and the pack is insulated.
Solutions Summary
Let's recap the benefits lithium-ion batteries can offer to those in the food and beverage industry to achieve higher profitability through higher efficiency of their material handling operations:
low total cost of ownership
high performance and equipment utilization
AGVs and AMRs drop-in solution
data analysis for the full fleet and individual trucks; remote upgrades and maintenance
powerful and durable batteries for diverse applications and harsh conditions
clean technology and full compliance with FDA standards