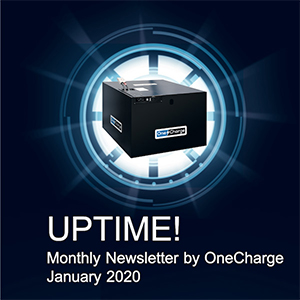 This is the January issue of UPTIME! –
your monthly update from OneCharge.
Read on to learn about the main technology trends anticipated by industry leaders, Edison Southern California financing program for electric forklifts, the biggest M&A news among Dealers and which truck is nominated for IFOY 2020 Award.
OneCharge's Alex Pisarev and Tim Karimov are quoted in this article, breaking down the pros and cons of sustainability to both Li-ion and lead.
"Lithium-ion batteries, for example, offer superior performance and require zero maintenance in order to charge — just plug in whenever the opportunity presents itself," says Brad Long, brand marketing manager at Yale Materials Handling. "They also last longer than traditional electrification options. Over a five-year period, a single lithium-ion battery pack would allow operations to avoid replacing four lead acid battery packs. This reduces recycling waste and saves money."
The Oyster Bay, New York-based research firm's white paper, 54 Technology Trends to Watch In 2020: Predictions For What Will — And What Won't — Happen In The Year Ahead, details 35 trends it expects will shape the technology scene and 19 others likely to have a lesser impact.
John Maguire, managing director of Narrow Aisle, also notes a shift in power sources. "We believe that many users of LP gas-powered handling equipment in warehousing are switching to machines that run on lithium-ion batteries as the ideal way of reducing running costs, exhaust emissions and operational noise levels," he says.
Many in the industry, like FLTA's Waples, see lithium-ion battery technology as one of the big trends continuing in 2020. Waples attributes its popularity to the charging ability and lengthier life spans that support longer shifts.
Atlanta's Georgia World Congress Center
March 17-19, 2020
The M Resort Spa and Casino
18th International Trade Fair for Intralogistics Solutions and Process Management
Stuttgart Trade Fair Centre
INDUSTRIAL TRUCK MANUFACTURERS' NEWS
Monaghan, Ireland based manufacturer Combilift is among the sixteen intralogistics providers nominated for the final round of assessments for the IFOY AWARD 2020 (International Intralogistics and Forklift Truck of the Year). The shortlisted candidates will take part in the group test days undertaken by an expert jury next month in Hannover, Germany and for the first time in the newly established IFOY TEST CAMP decision-makers in intralogistics are participating.
MHI DEALERS' NEWS

Yale dealer Chase Equipment Company will be sold to Pape Group as owner Roger Ketelsleger retires.
"I want to know everything I can about that. I try to stay engaged with new products so I can understand how new features best fit my customer base. For example, when the new lithium-ion batteries came out, I was able to use my knowledge of them to help customers who were having challenges watering and maintaining lead-acid batteries." Andrew says.
OneCharge NEWS

OneCharge Inc. and Ecotec, a provider of world-class, energy-efficient battery charging solutions, announced on February 3d, 2020, that their Southern California customers are eligible for Southern California Edison's "Charge Ready Transport"program. This SCE program covers most or all of the customers' costs for electric infrastructure needed up to the charging station. The five-year program has authorized up to $30 Million for forklifts specifically to promote switching to electric.
OneCharge Academy continues FREE ONLINE SEMINARS on Li-ion batteries usage tips and benefits for material handling industry. The 101 and 102 Advanced courses are 45-60 minutes sessions led by Mark D'Amato, a life-long professional in lift trucks and motive power.