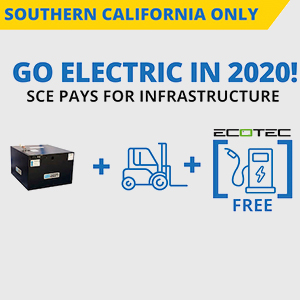 Our Southern California customers are eligible for financing with Southern California Edison's "Charge Ready Transport" program when switching to Li-ion electric lift trucks!
OneCharge Lithium Ion Batteries and ECOTEC chargers listed as approved vendors for  "Charge Ready Transport" program, which provides financing for fleet electrification infrastructure.
Irvine, CA, January 24, 2020 – OneCharge Inc., a leading provider of lithium motive batteries for the material handling industry, and Ecotec, a provider of world-class, energy-efficient battery charging solutions, announced today that their Southern California customers are eligible for Southern California Edison's "Charge Ready Transport" program. This SCE program covers most or all of the customers' costs for electric infrastructure needed up to the charging station. The five-year program has authorized up to $30 Million for forklifts specifically.
These are the main criteria for program eligibility, applicants must:
be within the SCE service territory;
purchase or lease two or more electric forklifts within 18 months of signing the agreement;
procure, own, install, and operate the charging stations for 10 years;
easement will be required.
These are the zero-emission voucher incentive benchmarks for clean off-road equipment projects:
| | |
| --- | --- |
| Forklift lbs. Lift Cap | Funding |
| 8,001 – 12,000 | $15,000 |
| 12,001 – 20,000 | $20,000 |
| 20,001 – 33,000 | $50,000 |
| >33,000 | $150,000 |
Electric Forklifts Have Lower Operating Costs
Electric forklifts cost less to own over their lifetime than comparable internal combustion engine (ICE) forklifts. A typical ICE forklift is about 3-5 times more expensive to operate than its electric counterpart. And with fewer tune-ups, a reduction in engine parts and no tank refills, electric forklifts are also more productive than legacy forklifts. Lower operating costs, reduced maintenance and improved safety make electric forklifts a better investment.
Electric Forklifts Are Just As Powerful
Modern electric forklifts perform side- by-side with their ICE counterparts, while being safer and less expensive to operate under most circumstances.
Electric Forklifts Reduce Pollution
With virtually no fuel expenditure, electric forklifts fit modern "earth-friendly" initiatives. With manufacturing trending green, electric forklifts are a smart, cost-efficient option. Plus, workers are not exposed to harmful tailpipe emissions with electric forklifts. The bottom line: less carbon footprint, more healthy work environment.
Electric Fleets Don't Require Space-Wasting Battery Changing Rooms
Fast chargers eliminate the need for battery-changing rooms. Batteries are charged during scheduled breaks and shift changes without ever leaving the vehicle.
Fast Charging Won't Harm Batteries
With unique algorithms, battery monitoring and heat management technology can actually extend the life of your batteries by almost 40% and reduce your battery inventory by 50%.
Energy Security
Energy efficiency and security is perhaps the most underrated of all the advantages of electric forklift trucks. The U.S. still imports millions of gallons of oil on a daily basis. Slowly and surely, electric forklifts (along with electric cars) are helping reduce the need for the
U.S. to rely so much on foreign imports. Electric forklifts are helping to fill the void with reliable, safe, and efficient transportation – all with a better overall economic benefit.
Additional application requirements apply.
Visit: https://www.sce.com/crt
About Ecotec Chargers.
Ecotec supplies industrial battery chargers and other power conversion equipment to companies throughout North America. It imports battery charging equipment from Sweden, Finland, and Italy and then they finish it to the customers' specifications at company facility in Troy, Ohio.
Ecotec provides world-class, energy-efficient battery charging solutions for use with motive power equipment employed by the material handling industry. From lift trucks to floor cleaning equipment and everything in between.
Ecotec chargers are of the highest quality and the feature set is among the best in the industry. What really sets the company apart are the fast, on-time deliveries, technical support and parts availability. The company focus is on fast, on time deliveries, and accurate order fulfillment.
Established in 2012, Ecotec is an affiliate company of Micropower and member of the Micropower Group.