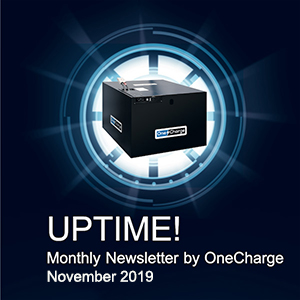 [:en]
This is the November 2019 issue of UPTIME! OneCharge monthly news digest.
You can always find more at our 
News and Media
 page or learn from our experts and register for 
FREE ONLINE SEMINARS
.
"Bohnert Equipment Company's comprehensive systems offering and expertise, along with its dedicated customer base, is a natural extension to the Wolter Group family of companies," says Jerry Weidmann, president of Wolter Group LLC. "We're proud of what they've achieved over the years and look forward to providing the additional resources and support to grow the company to the next level."
Bohnert carries Linde products as well as equipment from Rico and Cascade. The acquisition comes hot on the heels of Wolter's purchase of Kensar Equipment Company and is part of the group's strategy to grow as a premier provider with a complete offering of materials handling, storage and engineered solutions.
Proprietary design and materials are the ticket to protection in a rough-and-tumble supply chain.
Gary Forger, Contributing Editor of Modern Materials Handling, writes about how a combination of specialized packaging design and specialty resin formulations can protect both lithium ion batteries and eggs as they move through the supply chain.
Predicted CAGR of 17.03 percent from 2019 to 2026 based on the years 2017 and 2018, according to a Chicago Sentinel market report posted this month.
"This rise in the market can be attributed due to benefits like higher productivity and longer life expectancy."
Under market drivers notes, the report says that "the increasing need for automation and battery operated material handling equipment which increase cost effectiveness is boosting the growth of the market."
In recent years, the growth in the industrial automation has been highly eye-catching. This has been particularly beneficial for the development of the global lithium ion battery market for the application of material handling equipment.
As demand for material-handling equipment is growing, need for fast and efficient battery-operated equipment such as AGVs and electric forklifts is increasing in industries such as warehouse, logistics, food & beverages, and healthcare. Hence, need for battery-operated material-handling equipment is driving the growth of the lithium ion battery market.
UPCOMING EVENTS

The Four Seasons Hotel,
Washington, DC
March 9-12, 2020; Atlanta's Georgia World Congress Center.
From illuminating educational seminars to exhibits of next-generation technology and equipment in action, MODEX lets you see what's coming — and take advantage of it to power your supply chain for years to come.
INDUSTRIAL TRUCK MANUFACTURERS' NEWS
Combilift offers the Combi-PPT, a pedestrian-operated, powered pallet jack for the steel industry. It has lift capacities from 11,000 to 35,000 lbs.
Irish companies Pip IT and Combilift announced new African business deals as part of a five-day trade mission to South Africa and Kenya.
Combilift, which manufactures fork lift vehicles in Co Monaghan for export to global markets, is to announce a new deal with Nando's in South Africa as part of the Irish company's push into that country's food production sector.
Combilift already exports more than €3m a year to South Africa and CEO Martin McVicar said it had identified the expanding chicken processing sector in South Africa as a key market.
OneCharge NEWS

OneCharge has been growing steadily throughout 2019 and is expanding to new markets. Our Sales Team has gotten stronger  – meet Joel Rheinbolt and Carlos Carranza.
Joel has joined OneCharge as Vice President Sales, LATAM after having been in the material handling industry for almost 30 years. Most of that time he has spent in Latin America working on growing dealer networks. He spend 7 years with Crown Equipment Corp. building the electric forklift dealer network and was part of the development of distribution centers in Latin America during the 90's. Joel also worked at TVH, MCFA and LMA Industrial, he has also had many years of experience with service and parts.
Carlos Carranza joins OneCharge as Vice President of Sales, Canada.  In this new role Carlos will be  responsible for leading Canadian sales for OneCharge, with a focus on growing the company's enterprise, channel, and direct client bases. Carlos brings to the position a successful track record of more than 8 years in Industrial Motive Power that includes high-profile leadership positions and recognized sales achievements in the Lithium-ion battery industry. Carlos specializes in forming strategic alliances and programs that add value to the customer relationship.
Prior to joining OneCharge, Carlos most recently oversaw global sales for Electrovaya, Lithium-ion battery Manufacturer in Canada, where he nurtured key relationships and engendered strategic partnerships that led to significant revenue growth. Carlos earned a Bachelor of Commerce from University of Toronto.
OneCharge Academy continues
FREE ONLINE SEMINARS
on Li-ion batteries usage tips and benefits for material handling industry. The 101 and 102 Advanced courses are 45-60 minutes sessions led by Mark D'Amato, a life-long professional in lift trucks and motive power.
[:]