OneCharge is delighted to share the news that we have been recognized as a Green Fleet Pioneer (GFP) on the occasion of Earth Day 2023. Through our partnership with e-Mission Control, we are now an active participant in the California Air Resources Board's (CARB) Low Carbon Fuel Standard (LCFS) program. OneCharge is dedicated to leveraging sustainable energy sources in our operations. Our zero-emission forklift fleet has effectively offset 5.2 metric tons of carbon emissions in the last 10 months. This achievement is equivalent to the growth of 86.43 tree seedlings for 10 years.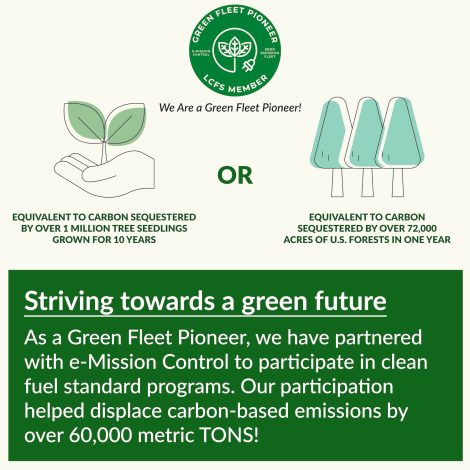 "Green initiatives are important for the future of our state and the future of the world at large," said OneCharge President Tim Karimov. "We're proud to partner with e-Mission Control to participate in CARB's LCFS and be recognized as a Green Fleet Pioneer. We see a future of 100% carbon-free transportation. Reducing petroleum dependency, decreasing costs of operations, and minimizing greenhouse gas emissions is the only way forward."
Launched in 2009, the California Air Resources Board (CARB) implements and administers the LCFS program. It is designed to reduce greenhouse gas (GHG) emissions in the transportation sector, which is responsible for about 50 percent of GHG emissions and 80 percent of ozone‐forming gas emissions in the state. This program also transforms and diversifies the fuel pool in California to increase renewable energy usage and achieve air quality benefits.