The world of EVs is developing every day, bringing new, more efficient, and more powerful industrial electrical equipment solutions—not only for electric cars, but for industrial electric trucks, too.
Growing demand and competition are pushing manufacturers to higher-voltage Li-ion batteries (as high as 800V) in some applications.
However, if we look closer at the material-handling industry, the main question is: can material handling operations benefit from adopting high voltage batteries with an 800V benchmark? Does the motto "the more the better," apply here or is it largely "specsmanship"?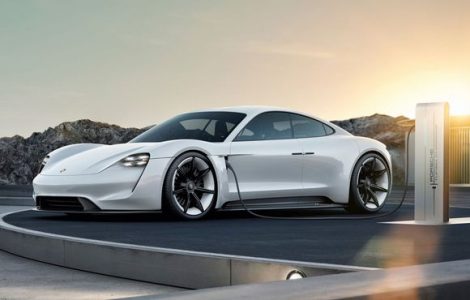 What exactly is a high-voltage battery?
In a hybrid vehicle, the battery packs are normally made up of several cylindrical or prismatic cells. These packs are often called high-voltage (HV) batteries. HV batteries possess high energy density (the battery's capacity ratio to the battery weight) and high discharge platforms. Lithium-ion Polymer High-Voltage (LiHV) batteries are more energy-intensive, meaning they use a larger amount of energy, than traditional Lithium-ion Polymer (LiPo) batteries, with a battery capacity increase of about 15%.
Electric Vehicles
The highest-voltage battery recently presented on the EV market today is 800V (nominal). Voltage levels from 400V to 800V are needed to store more power to run the vehicle and support acceleration.
The main goal of HV batteries in electric vehicles is to increase mileage per charge. This factor is not relevant in material handling though, where forklifts follow a scheduled charging protocol and opportunity charge at the place of operations.
Construction Equipment
Another industry where HV batteries (up to 800V) are applicable is heavy construction equipment for heavy-duty applications. HV batteries for medium-sized excavation equipment such as electric excavators and cranes are sometimes located within the chassis of these vehicles, eliminating the need for the normal counterweights used to balance the movements of an excavator's hydraulic arm.
Technical Aspects
Apart from the higher specific power (more kWh per kilo), another considerable benefit of increasing the voltage of a battery pack is the smaller cross-section of the copper cables needed to handle the same amount of power.
The downside is that the high voltage in these thinner cables has to be compensated for by thicker insulation. In the end, this is not just a matter of ergonomics and power increase, but also a question of better efficiency and cost.
Even when all cables are properly insulated, power systems above 100V still pose a safety concern during everyday handling. With the potential to inflict serious injuries on personnel, high-voltage systems necessitate a whole set of additional safety measures and protocols, both on the production and operational side, which has significant implications for the total cost of ownership.
HV Batteries in Material Handling—Why 80V Is the Sweet Spot
When it comes to off-highway industrial electric vehicles such as lift trucks, tugs, and transporters, 80V can be just the right HV solution for most warehouse handling operations. That is if you want to maximize your business efficiency and equipment ROI.
A forklift (or any other piece of material-handling equipment) doesn't need to win a race or take you on a windy highway ride, but it does need to perform efficiently. So it is important to choose the voltage of the battery for your equipment size and power requirements that meet the needs of your operation, but does not increase the driving range or minimize weight, which is more essential for the automotive industry.
You should consider the average load weight, the number of working hours per shift and per day, average travel distances, and lift heights to make an informed decision on the right battery voltage and capacity.
In our experience, companies making the greatest demands on their forklifts, such as handling heavy loads 18–19 hours a day, are choosing 80V batteries in the range of 650–850Ah. With their batteries at an average state of charge of around 60%, our customers are maximizing the lifespan of their batteries, and increasing equipment utilization at the same time.
Do you have enough power, or do you have too much power—and is it managed correctly? You may unlock operational savings if you choose wisely.
OneCharge customers already enjoy the benefits of an efficient, high-voltage product: MAX POWER Series lithium batteries.
A leading US beverage producer uses sit-down forklifts moving very heavy loads 24/7 on a single 80V/735Ah lithium battery. This is 19.5 hours of active use per day on average. It would take three lead-acid batteries to keep up with a single 80V lithium battery, which is sufficient for powering the work through three 8-hour shifts, 24 hours a day, 7 days a week.

Another case: a leading national dairy producer uses reach lift trucks in its ice cream manufacturing facilities, eight hours per shift, two shifts per day, with downtime over the 3rd shift. The company, which owns 13 manufacturing plants throughout the USA, runs similar multi-shift warehouse operations in temperatures ranging from -30°F to 70°F. The trucks repeatedly enter and exit the cooler and freezer environment, where the cold temperatures put additional stress on the batteries. OneCharge's 80V MAX POWER with 840Ah capacity proved to be the perfect fit for the job, showing high performance in harsh conditions.
These batteries offer cells insulated against condensation, allowing forklifts to make trips in and out of a freezer. With opportunity charging, one battery lasts for two shifts before it needs to go on a prolonged charge, and it is ready for work again in under two hours.
Benefits of OneCharge HV Li-ion Batteries in Material Handling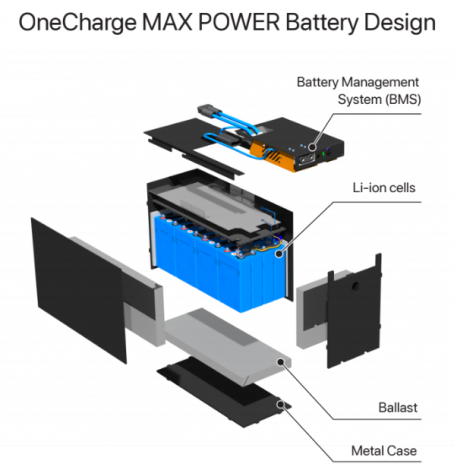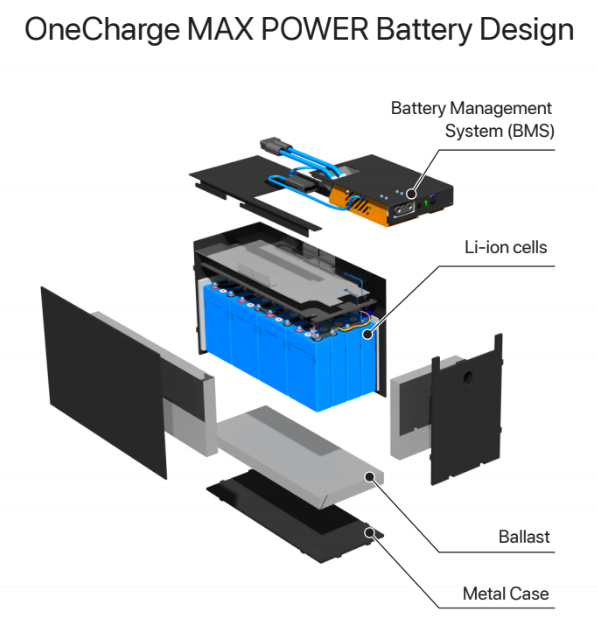 Can be used in the most demanding applications
Heavy loads such as in the beverage-distribution, paper, lumber, and metal industries
Massive attachments such as paper roll clamps, push-pull, and single-double
Narrow aisle applications where maximum fork heights are required
High performance
Single battery operation
Fast travel and lifting speeds at all levels of discharge
Little or no voltage drop
Reduction/elimination of heating issues that can damage lift truck components
Low total cost of ownership
Save 20–40% in 2–4 years (compared to LP, diesel, or lead-acid)
Use for two to three times longer than the cycle life of a lead-acid battery
Save the labor or service contract dollars to change and water batteries
Return battery room space to profitable use
Reduce electricity use by as much as 30% due to better energy conversion
Reduce or eliminate costs to cool charging areas and warehouse
Improve safety and sustainability
Eliminate the risk of changing heavy batteries every shift
Avoid acid fumes or spills
Reduce use of electricity, less waste, 99% recyclable